[vc_row type="in_container" full_screen_row_position="middle" scene_position="center" text_color="dark" text_align="left" overlay_strength="0.3″][vc_column column_padding="padding-5-percent" column_padding_position="left-right" background_color_opacity="1″ background_hover_color_opacity="1″ column_shadow="none" width="1/1″ tablet_text_alignment="default" phone_text_alignment="default" column_border_width="none" column_border_style="solid"][vc_column_text]If there's one thing small business owners know, it's that there isn't enough time to get everything done. And when it comes to digital, things can get exhausting. For some, social media is enough to make your head spin—and managing your entire digital presence can sometimes make you question your sanity.
Between Facebook, Instagram, Snapchat, Twitter, LinkedIn, website updates and e-mail, the to do list fills up pretty quickly.
At the end of the day, social media and driving traffic to your website aren't the goal. Sure, they're incredibly important in a 2017 world, but the goal is to make money. You need customers and that's one thing we understand.
So, the question is…How do we leverage the power of social media and all the work we're doing there to generate new viable leads that we could nurture into paying customers?
That's why we're here.
By now you've probably heard a lot about the power of Facebook ads and how everything that we do and click on the internet is used to by their complex and vast advertising platform. It's this information that provides us key opportunities to get relevant content in front of the right people at the right time so that we can see the ROI that makes us all do a little happy dance.
But, if you've never used Facebook Ad's before, it's worth familiarizing yourself with how they work. Be sure to check out our blog How To Increase Online Sales Using Facebook Ads, and download our e-book, "The Beginner's Guide to Facebook Ad's" to learn more.
So, before we go any further, let's talk a little more about lead ads and how they can help.
Lead Ad's are Facebook Ads that help facilitate direct contact between businesses and user. And, like any ad on Facebook, you can customize them based on demographic, location and interests. Lead Ad's allow for the user to connect with businesses in a variety of different ways, everything from price estimates to product reviews to information capture. There are a variety of lead ad's to choose from.
The best part about all of this? They do it right there on Facebook. Yup, you heard correctly. They don't even have to leave Facebook to download and give you their email.
Talk about convenience!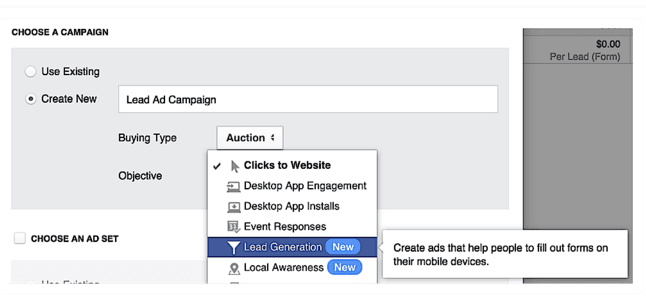 For our purposes, we'll concentrate on Lead Ad Forms. Forms allow you the ability to collect contact information like numbers and e-mail address from users that would like information about your business—or some other relevant piece of information like an e-book. By collecting this information, you can then use this data to then populate your subscriber list on your email platform.
Using Facebook in this capacity is great for a few reasons.
First, you're able to expose your brand to a lot more people on social media, Facebook specifically, than you would on your website alone. Facebook is an environment that attracts and keeps everyone's attention at a very low cost for the business. This means a high ROI for anyone that invests. For a business seeking a low Cost Per Lead, (CPL) investing in Facebook Ad's are the proven way to go.
Another great feature of Lead Ad's is the way it's designed. Both user and mobile friendly. For anyone to share information with your business, Facebook is able to auto-fill the forms with information a user is already sharing with Facebook. All the user has to do is click share. This makes it effortless for someone to sign up or a newsletter, get a quote or simply ask for more information, allowing you to follow up using that same information on e-mail.
If you're on the fence about e-mail, or are already using it, Lead Ads offer an easy way to capture addresses, saving you time to get to those other things on your to-do list.  Explore the potential on Facebook and see what works for you!
[optin-monster-shortcode id="bsknecskx6ezqfpst0pi"][/vc_column_text][/vc_column][/vc_row]